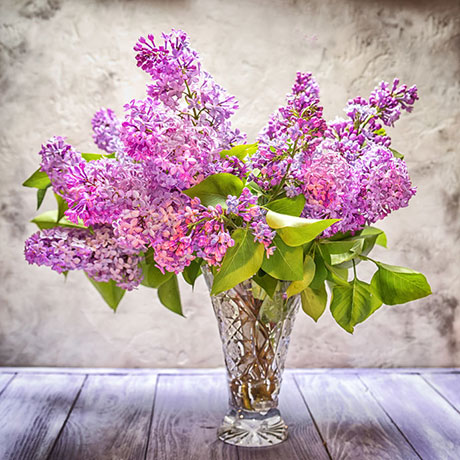 The lace of lilacs tumbles
from the crystal vase.
Every spring since I have lived
in my own house
I bring this fleeting bounty
to my bedroom.
The flower of brides.
This year I bring
the entire tree inside,
fill my house with
lavender lilacs
purple lilacs
lilac scent
cascading from piano, table, glass, and tile
more fragile than lilies
more fleeting than roses.
The flower of babies
and old women.
I fill my house today
with riotous beauty,
lilac bursting open the season.
It's the day we celebrate her leave taking.
We lay out strawberries, cream cheese, watermelon, wine.
We lay out stories, paintings, and old photos:
one of my belly swelling welcome
under cotton flowers, me still sole owner of the girl;
one of her tulip head cradled in her father's palm;
one of our girl feeding her baby brother;
our girl naked under walnut tree. Slowly the scenes change.
She preens for the first dancing party,
hugs friends, climbs the Grand Canyon,
builds habitat houses;
she's wrapped in lavender chiffon and white prom roses.
We lay out toffee cookies and tea ring,
we lay out brownies and welcome
to a hundred people who cannot help us
as we lay out our swelling godspeed hearts
and I bring lilacs to her bedside table,
A first bouquet for her,
the fragrance filling the room
she prepares to leave.