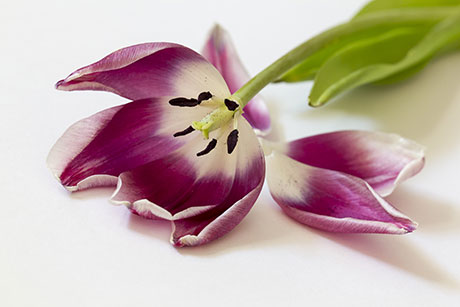 Words don't mean much here.
Take Ida, who is excit­ed to hear:
there is a phone call for her!
She turns to the win­dow
to pick up her glass­es.
The mes­sage is repeat­ed,
a phone call for you Ida,
and she is excit­ed to hear:
there is a phone call for her!
Allen speaks in Russ­ian,
Jim answers in Greek,
the con­ver­sa­tion pleas­ing
to both part­ners, who nod and laugh.
The old, most­ly women,
spoon mashed pota­toes and stare,
or talk randomly…I want…honey…
oh my…pillow…pretty hors­es…
nice…pudding… words strung
ran­dom­ly like dis­rupt­ed DNA.
My moth­er greets me with a rip­pling gig­gle.
Inked on her parch­ment palm the name
of her new man, her sweet guy.
She curls her fin­gers into a fist so
she can hold on to him. We walk
the path behind the build­ing admir­ing
the child—my grand­son, her great—
and she won­ders if it was hard for me
to give birth to him. Not at all, I say,
which, I rea­son, is true in the most lit­er­al way.
I won't tire her with irrel­e­vance; after all,
we don't rebuke the tulip when its petals fall.
I've giv­en up on words. We sit togeth­er,
her head on my shoul­der, my cheek rest­ing
on her hair, and let the sun set.