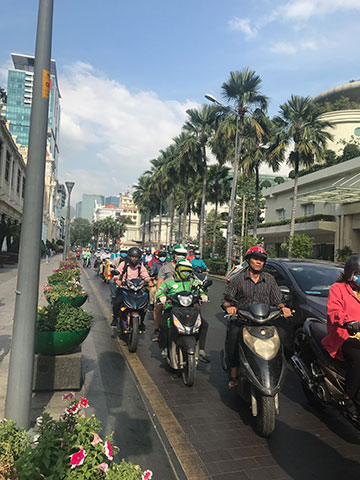 Motorbikes flow like minnows in a fast-moving stream around and through the choked traffic of Vietnam's cities. As pedestrians we step out into the brief interludes of traffic and watch the stream shift in front of us. As passengers in cars, we catch our breath as the stream of cycles parts and comes back together again in front of us. Horns blast a constant cacophony.
Despite being clutched by this maddening scene, no one yells, shakes a fist, or otherwise threatens violence. They are the opposite of hostile. They have mastered the choreography of this chaos and go with the flow. 
Bob and I saw other evidence of this choreography, of going with the flow, as well. We were merely tourists who dipped in and out of Vietnam's long span of land and history. As such, I claim no deep knowledge; still, I experienced many moving moments.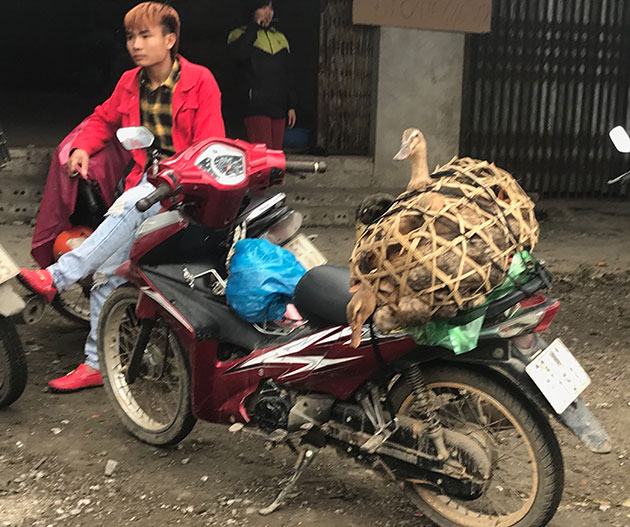 I was struck by the resilience I witnessed. Hoi An, a small city of about 150,000 people, sits on the Thu Bon river. It charms tourists and residents alike with its many-colored lanterns suspended across streets, bridges, and doorways. Our guide, Anthony, invited us to his home for dinner, where he introduced us to his wife, to his spunky six-year-old daughter who liked showing off her English, and to his three-year-old son whose autism has interfered with his ability to speak. The living/dining room opened wide to the street and offered a small table, a refrigerator, and their altar.
Our first course was crickets served in small pancakes, the little girl's favorite. Anthony knew it would be a unique menu for us; he got a good laugh as he set the plate on the table. But his daughter didn't get the joke. Her hand kept darting out for more. The pancake softened the crunch so we didn't find it difficult to eat a couple of them.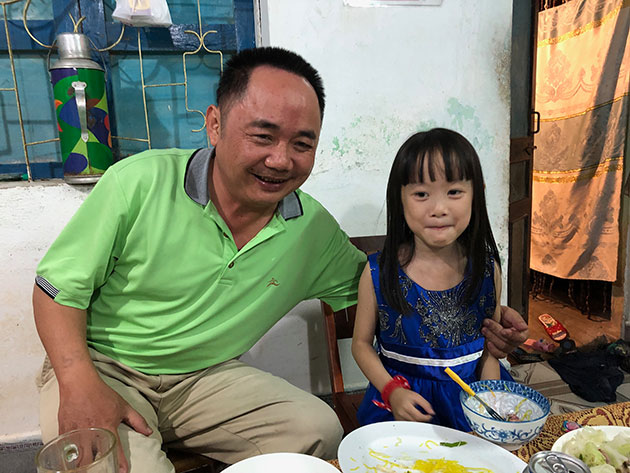 Over dinner, Anthony explained that the city floods every November for several days and water rises in their house at least several inches, sometimes higher. The city cuts power in anticipation and they move their small amount of furniture upstairs. The refrigerator can't be moved but has survived the floods. And the motorcycles? They suffer. Anthony shrugged, said they simply bring them to a mechanic to have the silt removed from the engine each year.   
He and his wife also face the challenge of paying to send their son to a special school. In addition to working as a guide, Anthony and his wife raise crickets to sell to local restaurants. The tiny creatures scamper around four bins about the size of portable cribs lined with fabric in their backyard. They also sell the lanterns that hang everywhere above the streets and in doorways. 
The tiny kitchen is a separate room in the backyard as is the bathroom, and the windows are without glass. "If I won the lottery," Anthony said offhand, "I'd buy a bathtub."
The tunnels in the DMZ (demilitarized zone) leftover from the Vietnam war also shout resilience. The entire village of Vinh Moc essentially lived in this underground warren as protection from the massive American bombing fifty years ago.
The U.S. believed the people of the village were supplying food and ammunition to the North Vietnamese military. They carpet-bombed the village to force it to relocate. Instead, the village people dug two miles of tunnels at least thirty feet below ground. Today they are open to visitors.
The tunnels twist and turn and occupy multiple levels. We saw small niches carved out of the sides where families ate and slept. Kitchens were ventilated in such a way that smoke would not betray their location. There was even a room for a "maternity hospital" where several children were born. They lived this way for years, emerging for periods of time to work in their fields.
Bob and I came of age during the Vietnam War and had difficulty imagining how the Vietnamese people would accept us; we wondered what kinds of feelings would arise with our presence. It was, of course, the younger generations who guided us during our trip, but they held no grudges against America. In fact, one guide even cautioned us that the War Remnants Museum in Ho Chi Minh City shows the war from the victors' eyes. He assured us that, while its history is accurate, it is not the only history to be told. He seemed to be letting us know he did not see Americans as "the bad guys." We are aware that there were atrocities on both sides as well as many honorable people on both sides, but that did not stop us from feeling devastated at the photographs of what our carpet-bombing and expansive use of Agent Orange had done to the people.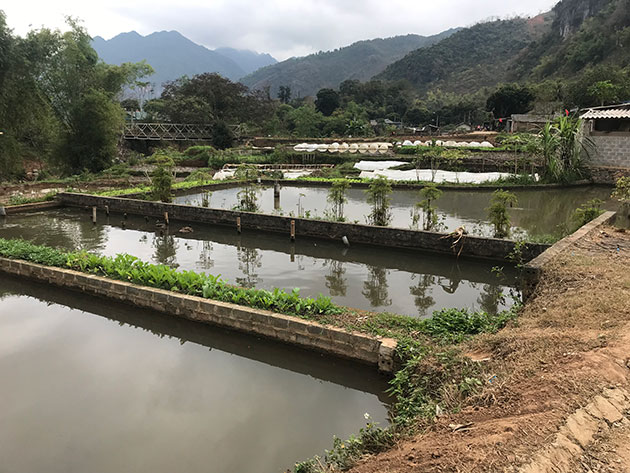 I hail from Minnesota, the land of "nice," but we hold nothing on the Vietnamese people we met. They were consistently kind, welcoming, and unguarded. A hotel server took time to explain how she would balance her work with helping her family in Tet, the Lunar New Year celebration. Our cooking class teacher took time to visit with us, telling of the years she had been working and about her family. All of our guides shared their personal and family histories, their dreams and their challenges.
As with their resilience and kindness, I was also struck by their dedication to their families. Sonny talked about his older brother giving him money to go to school, and how he, in turn, gave money so his younger brother could marry. Kim, the youngest and perhaps the hippest of our guides, said it is customary for the oldest son to receive the parents' house and care for them as they age. This involves maintaining the altar as well, which can be a big job. Will you do that? we asked him. He said he would probably move back to the small village where he grew up when his parents need him, or he might give the house to his brother but continue to maintain the altar.
Even in two short weeks in a country, there are things one can learn. I have a bit more understanding now about what resilience can look like. I was gifted with generosity over and over again and admired the beauty of the people and the land. Just as important, I was made aware, once again, of the privilege I and many Americans live with, that even something as basic to my life as a bathtub can be a luxury to other populations.