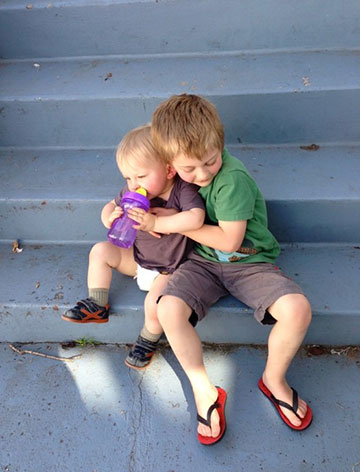 The hor­rif­ic shoot­ing in Christchurch, New Zealand is on my mind this week. As are Char­lottesville, Pitts­burgh, Charleston. I plugged myself into the news as I walked home from the YMCA and lis­tened to an interview—I don't even know who was being interviewed—but it was dis­turb­ing. Queasi­ly dis­turb­ing. The man on the radio was talk­ing about the way that the inter­net has nur­tured the white nation­al­ist move­ment, how there are algo­rithms that guide inter­net posts so they can slow­ly draw peo­ple deep­er into the bizarre con­spir­a­cy the­o­ries and hate-filled rants.
Face­book tried to stop the video that the white nation­al­ist shoot­er broad­cast as he mur­dered fifty peo­ple, but they couldn't. Peo­ple who want to watch the gris­ly scene can still find his video. I can't make myself look at sto­ries about the vic­tims today. Despite know­ing we have a respon­si­bil­i­ty to not look away, I des­per­ate­ly don't want to feel the pain in this inti­mate way. I won­der what I, as a poet and children's writer, can pos­si­bly offer that could help to change the tra­jec­to­ry the human race seems to be on.
Human beings don't begin their lives with hate. On the con­trary, research shows that our chil­dren come wired for "proso­cial behav­ior." My son's baby sis­ter arrived when he was two years old. I remem­ber how ten­der he was with her, how he would gen­tly kiss her cheek and try to com­fort her when she cried. Chil­dren are often much quick­er to share, to com­fort and to help than we give them cred­it for. Babies as young as two- or three-days old show signs of dis­tress when oth­er babies cry. By two years of age, chil­dren are good at offer­ing comfort.
It's crit­i­cal, of course, that par­ents rein­force this behav­ior, and children's writ­ers have the lucky job of help­ing them with this. We can make books that par­ents can read to their chil­dren as they hold them in their laps, to let them feel loved and secure, secure enough so they don't have to rely on hat­ing oth­ers to feel good about them­selves. We can also write sto­ries that rein­force children's instincts to care about each oth­er, to be kind and loving.
We can put one foot in front of the oth­er, write one page after anoth­er, and do our best to con­tribute to a hap­pi­er tra­jec­to­ry for the human race.